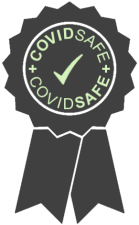 Due to the current situation we have made a few changes to the way we run our workshops to ensure everyone stays super safe. As well as following the government guidelines and those set out by the venue we use, we have also introduced our own additional safety measures. Fortunately we have been able to do this in a way that retains the relaxed and happy atmosphere that everyone expects.
We will continue to assess the situation and will always err on the side of caution.
In summary, this is what we are doing:
Workshoppers are invited to arrive fifteen minutes before the start of a workshop and are asked to social distance when entering the building.
Everyone is asked to use the foot operated hand sanitiser provided as they enter the building.
Those leading the workshop wear a visor throughout the day. We ask workshoppers to arrive wearing a face mask. Once sat, they can choose whether to continue wearing their face mask or instead to wear a visor which we provide.
Everyone is provided with their own hand sanitiser to use throughout the day.
Workshoppers have their own individual table to work at and these tables are positioned so that, when sat, workshoppers are 2m+ away from each other.
Where as lunch is usually a buffet, it is now a boxed lunch, indivually presented.
We keep a register of attendance for 21 days. If anyone develops COVID-19 symptoms within 7 of attending the workshop, they are required to let us know so we can inform the Test, Track and Trace system and the hall's booking secretary.

If you have a concern that we haven't addressed here, please feel free to contact us - it is important to us that you feel safe attending a workshop.
Whilst our usual booking terms and conditions remain, if we should have to cancel a workshop for any reason, a substitute date for the same workshop will be arranged as soon as possible.