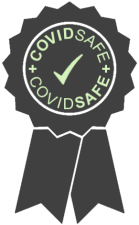 We are fortunate that the space we use for our workshops is airy with plenty of ventilation. Our workshops are also limited to small groups.
Although all government restrictions have been lifted, we have chosen to keep a few of our covid safety measures in place for the time being. We will continue to assess the situation and will always err on the side of caution.
In summary, this is what we are doing:
Workshoppers are invited to arrive up to fifteen minutes before the start of a workshop and are asked to use the foot operated hand sanitiser provided as they enter the building.
Everyone is provided with their own hand sanitiser to use throughout the day.
Tables are positioned so that, when sitting, workshoppers are approximately 2 meters away from each other.
Facemasks are not a requirement, however we encourage workshoppers to bring one with them for moments during the day when they may be close to others and feel more comfortable wearing one.
Whereas lunch is usually a buffet, it is now presented individually.

If you have a concern that we haven't addressed here, please feel free to contact us - it is important to us that you feel safe attending a workshop.