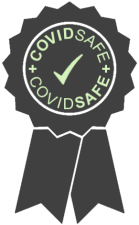 We are fortunate that the space we use for our workshops is airy with plenty of ventilation. Our workshops are also limited to small groups.
Although all government restrictions have been lifted, it is important to us that everyone feels comfortable attending a workshop. We therefore encourage anyone wishing to wear a face mask to please do so, and we will always have hand sanitiser and alcohol wipes available - please just ask. Also, whereas lunch was once a buffet, it is now plated individually.
If you have any concerns or questions regarding covid, please feel free to contact us.